STERILIZATION & VALIDATION
In-house Steam Sterilization
Life Science Outsourcing is the only contract steam sterilization provider on the West Coast.
Steam Sterilization Expertise
Steam sterilization is commonly used for high-heat compatible devices both for terminal sterilization and sterilization of reusable devices during reprocessing. Life Science Outsourcing maintains four validated autoclave chambers of various sizes and capabilities. Unique among these chambers is our 74ft³ GmP autoclave with air-over-pressure capabilities for sterilizing flexible liquid containers such as blood and solution bags, syringes, and vials.
Steam sterilization validations can be performed to various standards, including ISO 17665, EN285, AAMI ST79, etc. Both gravity and pre-vacuum cycles are performed at temperatures up to 135°C. LSO also performs biological indicator sterility testing in-house and offers the shortest lead times in the industry.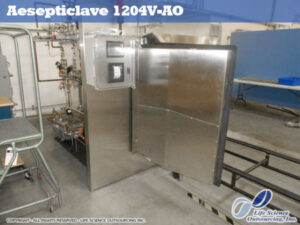 Chamber Volume: ~74ft³ / 2 M³
Chamber Size: 36″ W x 84″ L x 42″ H
Cart Size: 30″ W x 78″ L x 34″ H
Tray Size: 15″ W x 39″ L x 1.75″ H
Standards Performed: EN285, ISO 17665
Cycle Types: Gravity – Air-Over, Gravity, Pre-vac, Leak Test, Bowie Dick, Drying
Cycle Parameter Ranges
Temperature (°C): 121 to 135
Exposure Time: 3 minutes to 4 hours
Dry Time: up to 4 hours
Applications: Liquid filled containers, Large quantity device runs, Large devices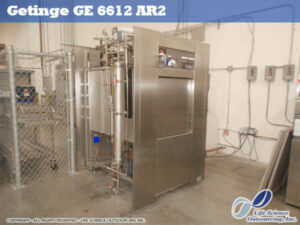 Chamber Volume: ~19ft³ / .5 M³
Chamber Size: 26″ W x 49″ L x 26″ H
Cart Size: 23″ W x 45″ L x 21.5″ H
Basket Size: 19″ W x 22″ L x 8.5″ H
Standards Performed: ISO 17665
Cycle Types: Gravity, Pre-vac, Leak Test, Bowie Dick, Drying
Cycle Parameter Ranges
Temperature (°C): 121 to 128
Exposure Time: 15 minutes to 2 hours
Dry Time: up to 2 hours
Applications: Small quantity device runs, Medium-sized devices, Kitted Devices, R&D runs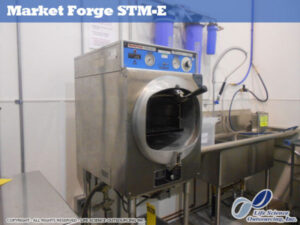 Chamber Volume: ~5ft³/ .1 M³
Chamber Size: 16″ dia x 26″ L
Cart Size: 12″ W x 20″ L x 4″H
Standards Performed: AAMI ST79
Cycle Types: Gravity, Variable Exhaust, Drying
Cycle Parameter Ranges
Temperature (°C): 121
Exposure Time: 15 minutes to 2 hours
Dry Time: up to 2 hours
Applications: Surgical Kits, Reusable devices, Lab supplies, Wrapped loads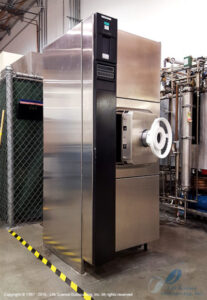 Chamber Volume: ~3.9ft³ / < .1 M³
Chamber Size: 16″ W x 26″ L x 16″ H
Standards Performed: ISO 17664, AAMI ST79
Cycle Types: Pre-Vac, Gravity, Drying
Cycle Parameter Ranges
Temperature (°C): 121 to 135
Exposure Time: 2 to 60 minutes
Dry Time: up to 1 hour
Applications: Surgical Kit, Reusable Devices, Lab Supplies, Wrapped Loads, R&D Runs