There's no question that 2021 was a challenging, unpredictable, and difficult year for most if not all businesses. We were shocked by the rapid onslaught of COVID-19, saddened by the isolation and loss of lives, horrified and hurt when long-simmering racial injustice erupted into civil unrest and worried as the global climate crisis loomed larger than ever. Through it all, our commitment to our mission – to advance the quality of life – remained strong. We maintained our focus and continued to work together as one unified team.
Life Science Outsourcing, Inc. is incredibly proud of our employees. It was their sacrifices and hard work that delivered outstanding results in the most difficult circumstances many of us have ever experienced.
Throughout our strong workforce, LSO has chosen three employees for the 2021 Employee(s) of the year.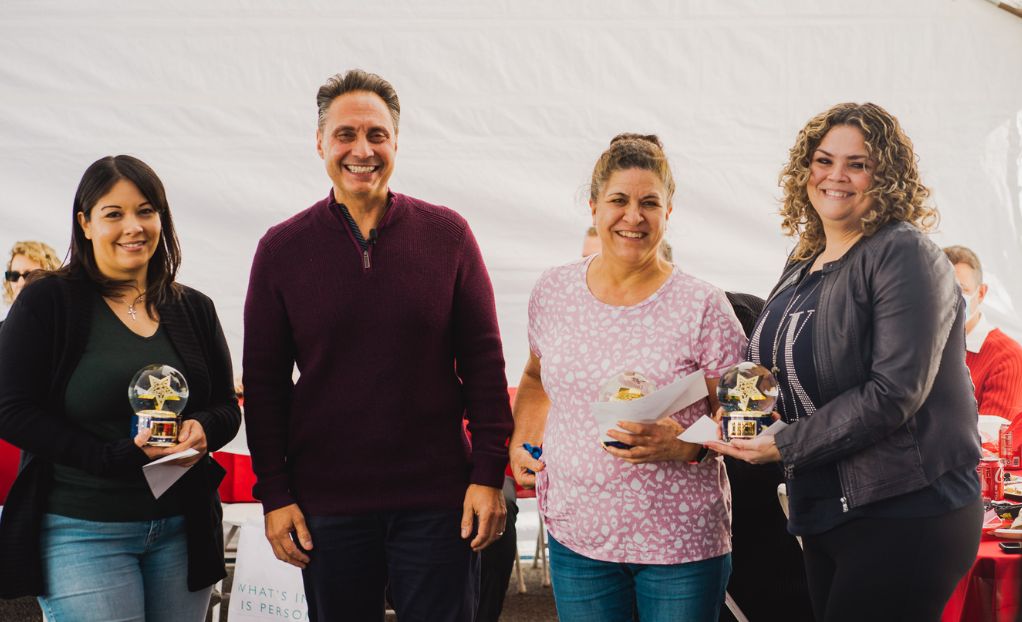 Employees of the Year, Denise Contreras, Cristina Serna, and Minerva Paez with CEO John Nino
Cristina Serna – Production Supervisor
Cristina has been working for LSO since 2000 with sincerity and dedication. In the year 2021, her performance was exceptional. She was able to maintain production goals and provide strong leadership within our manufacturing department beyond all expectations.
Minerva Paez – Project Technician Lead
Minerva has been working for LSO since 2006 and has provided an abundance of hard work and dedication within LSO's project team. In 2021 Minerva provided exceptional work, perseverance, and diligence for all the new projects for LSO.
Denise Contreras – Documentation Control
Denise has been working for LSO since 2004 and has played a vital role in our quality and engineering departments. In 2021 Denise has provided excellent service for all of LSO customers with integrity and passion which contributed to LSO's success within this competitive industry.
 "Employees are a company's greatest asset – they're your competitive advantage. You want to attract and retain the best; provide them with encouragement, stimulus, and make them feel that they are an integral part of the company's mission." -Anne M. Mulcahy
Life Science Outsourcing, Inc. appreciates all of you for your excellent performance. Because of your hard work, the company has increased in size and profitability. Your enthusiasm and interest to work in the company, in spite of difficulties, have made a huge impact on our success. We have all noticed the enthusiasm and extra hours each of you put in throughout this pandemic. We appreciate your high-level proficiency in handling the tasks assigned to you, your craving for perfection, your communication skills, and your humble behavior with all the LSO employees.