STERILIZATION & VALIDATION
EtO sterilization is currently one of the most popular sterilization methods for medical devices. Ethylene oxide gas exposure destroys pathogens and supports safe products for use on patients. EtO is typically used on products that cannot withstand high temperatures, such as plastic products or packaging, devices with electronic components, certain materials or materials that cannot withstand gamma or steam sterilization, or custom kits.
Life Science Outsourcing offers tailored EtO sterilization solutions for various R&D and custom products. Our in-house capabilities and equipment include efficient 3M Steri-Vac™ sterilizers and validated chambers. We also deliver reliable biological indicator (BI) testing to ensure your products meet stringent sterilization standards.
Ethylene Oxide (EtO) Services
Streamline your sterilization process with LSO's EtO sterilization services, optimized for ease and efficiency:
Flexible Sterilization Cycles
:
From fractional to full cycles with EtO residual testing.
Robust Qualification:
Secure with 2X qualification.
Choice of PCDs:
Tailored to your sterilization needs.
Full EtO Validation:
Comprehensive packages for regulatory compliance.
Routine Sterilization:
Regular and reliable service.
Instrument Sterilization:
In line with FDA guidelines.
Fast-Track Option:
Expedited services for urgent projects.
Digital Documentation:
Receive records quickly by fax or email.
We are committed to delivering end-to-end medical device sterilization and packaging support to our clients. We offer EtO sterilization in support of package integrity and product testing:
Destructive testing
Packaging evaluation
Pouch qualification
Read a recent article to discover significant advantages of localized ethylene oxide (EtO) sterilization for medical devices, including small batch EtO, benefits of small batch processing, and how streamlining services contributes to a smoother supply chain.
Ethylene Oxide (EtO) Sterilization Equipment: 3M™ Steri-Vac™ Sterilizer/Aerator GS8X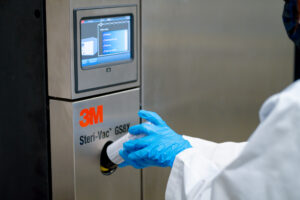 Efficient Chamber Volume
:
8ft³, with optimal dimensions for a variety of products.

Compliance Assurance
:
Meets ISO 11135 – 2014 standards for quality and safety.

Flexible Temperatures
:
Ranges from 37°C to 55°C to suit different material requirements.

Customizable Cycle Times
:
1 to 8 hours, with a standard 4-hour cycle for thorough sterilization.

Broad Applications
:
Perfect for a wide array of medical devices and hospital reusable instruments.
Large Batch EtO Sterilization
Life Science Outsourcing extends its EtO Sterilization services to large-scale operations through our partner network, offering a diverse range of chamber sizes to accommodate any requirement.
All procedures are executed in strict adherence to ISO 11135 standards, ensuring the highest level of sterilization compliance.