STERILIZATION & VALIDATION
In-house Steam Sterilization
Life Science Outsourcing provides ethylene oxide (EtO) sterilization large and small batch processing with faster turnaround times and reduced costs.
EtO Sterilization Expertise
Ethylene Oxide (EtO) Sterilization is used for gas compatible devices of all types and configurations for both terminal sterilization as well as sterilization of reusable devices. Life Science Outsourcing provides contract EtO sterilization services for both purposes, as well as EtO validation services.
In-house Small Batch EtO Sterilization
Life Science Outsourcing is uniquely positioned to support R&D, custom product, and lean manufacturing EtO cycles in our two in-house, 3M Steri-Vac™ sterilizers ~8 cubic feet, validated chambers. We also provide in-house BI testing.
EtO Services
R&D and Cycle Development
Fractional Cycle
Half Cycles
Full Cycle with EO Residual testing
2X qualification
Selection of PCDs
Complete EO Validation Package
Routine EO Sterilization
Hospital reusable Instrument Sterilization (performed to the 2011 FDA draft guidance)
Expediting for urgent or immediate requirement projects.
Ability to deliver process documentation via fax or e-mail
EtO Sterilization in support of Package Integrity & Product testing
Destructive Testing
Packaging Evaluation
Pouch Qualification
3M™ Steri-Vac™ Sterilizer/Aerator GS8X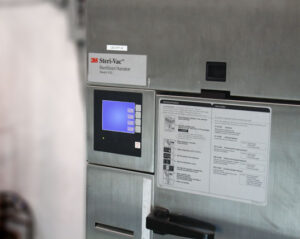 Chamber Volume: ~8ft³
Chamber Size: 18″ H x 20″ W x 38″ D
Standards Performed: ISO 11135 – 2007
Cycle Types and Temps: 37°C – 55°C (Typical 55°C)
Cycle Parameter Ranges
Exposure Time: 1 – 8 hours (Standard is 4 hours)
Applications: Medical devices and hospital reusable instruments
Large Batch EtO Sterilization
Life Science Outsourcing also provides large scale EtO Sterilization processing in association with our partners, utilizing a broad inventory of chamber sizes.
All processing is performed in accordance with ISO 11135.