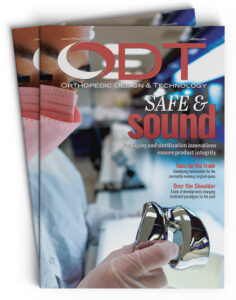 Orthopedic Design and Technology (ODT) magazine recently spoke to industry leaders, including Life Science Outsourcing's own CEO, John Nino, about the newest regulations, Advanced Medical Technology Association's (AdvaMed) ethylene oxide (EtO) communication with the president, and where they see the medical device sterilization and packaging industry headed in the coming years. These industry leaders narrowed in on important components influencing the continuing need for EtO sterilization, as well as effective solutions to help medical device manufacturers get their product to market faster.
EtO regulations and changes
ODT magazine addressed the hot topic of EtO sterilization. EtO and its use for sterilization of medical devices has been a popular subject for debate in recent years, as added scrutiny continues to weigh its impact on the environment. 2023 is no different. In January of this year, AdvaMed reached out with a letter to U.S. President Joe Biden to share industry concerns around new EtO regulations and potential consequences – including critical medical device shortages.
"We would ask that you consider the potential threat to patient care if any sterilization facilities shut down. With 20 billion medical devices sterilized using EtO each year in the U.S. at about only 100 facilities, the closure of even a small percentage of facilities could harm patient access to health care," they wrote. The Environmental Protection Agency (EPA) has not made steps to ban EtO sterilization. To that effect, AdvaMed CEO Scott Whitaker emphasized the willingness for the medtech industry to work with updated EtO sterilization regulations with a request for the agency to reconsider language it uses to avoid alarming residents who live near sterilization facilities.
Sterilization and packaging trends
The ODT magazine article continued to pull insights from industry leaders, including where the industry is headed and priorities or highlights for orthopedic medical device manufacturers to keep in mind. We've rounded up a few of the topics for you.
Device demand continues to accelerate
By 2040, the U.S. population over the age of 65 is estimated to be around 21%. John Nino explains, "The orthopedic industry is facing an evolution anticipated to increase the need for sterilization, validation and sterile packaged devices for an aging population. To successfully meet evolving industry demand and minimize infection risks, orthopedic device makers will need increased support via sterile packaging availability and device sterilization."
Backlog resolution is imperative
When COVID took root in 2020, elective surgeries were brought to a standstill. And three years later, the healthcare industry is still struggling to keep up amid crushing backlog and updated standards which were developed during COVID and after the COVID wave receded. Meanwhile, orthopedic technology continues to advance, allowing for new and better technologies – and increasing demand amid an already backlogged system. Device manufacturers must find ways to double down on efficient ways to deliver their products to market, and the right sterilization or packaging partners can help.
Vendors are streamlining offerings
It's no longer necessary to jump through hoops to qualify multiple vendors across the country to meet all sterilization and packaging needs. Medical device manufacturers can work with one vendor, such as Life Science Outsourcing (LSO), to meet ALL their sterile packaging needs. A few benefits of working with LSO include:Pre-validated packaging solutions
Class 7 cleanrooms
Dedicated washrooms
ISTA certified package testing
Documentation and control for hundreds of SKUs
Steam and EtO sterilization
Validation engineers and microbiologist
Pre-validated packaging as a game-changer
Pre-validated packaging solutions are incredibly efficient. They eliminate the design qualification or stability testing steps and solve labor availability issues across the account management level and manufacturing stages. LSO offers a variety of pre-validated options, such as Tyvek pouches and thermoformed trays with Tyvek lids. These ensure supply chain and can get a product to market much faster.
Medical/orthopedic device packaging and sterilization is going through an evolution of change, some of which will benefit manufacturers – and some of which will create roadblocks. But the right sterilization and packaging partner can guide processes to ensure proper validation, documentation and more. As vendors become more effective with streamlined service offerings, manufacturers will find increased efficiencies and faster turnaround to market.
Looking for more information on EtO sterilization? Read Medical Device Ethylene Oxide Sterilization: Environmental and Technician Safety.
Start up. Speed up. Scale up. Founded in 1997, Life Sciences Outsourcing is an FDA-registered and ISO 13485-certified organization with services and capabilities spanning the entire medical device product life-cycle – from turnkey manufacturing, testing, validation, and sterilization to precision packaging, fulfillment, and distribution. Email us at info@lso-inc.com or call (714) 672-1090 today to get started.